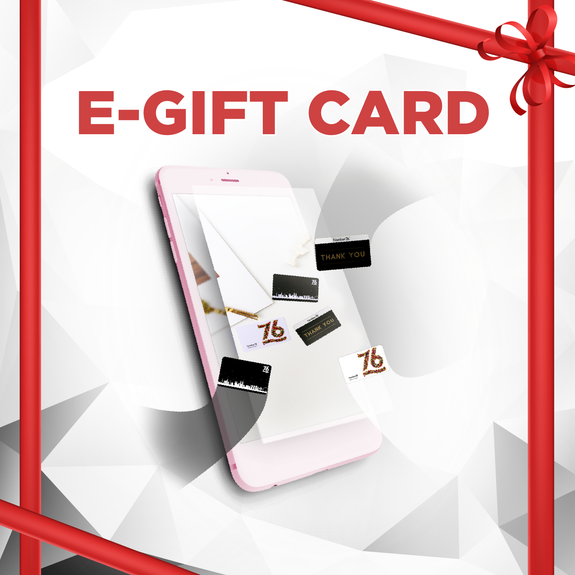 Number76 eGift Card
$100.00 SGD
Number76 eGift Card
Purchase value starts from $100, $200, $300 and above! Redemption can only be used in Number76 Hair salon in Singapore. 
What's the benefit of having Number76 eGift Card?
10% EXTRA Cash Value

No expiration date of your cash value
eGift Card can be used just like cash at Number76 Hair Salon for any services or products
Remaining balance can be saved for next visit
It's a perfect gift for recipients of any age and gender
How does it work?
The eGift Card ID number will be sent via email. Please ensure your email address is filled out correctly. 
Term & Condition applied:
* Can only be used in the hair salon and not for online purchases. 
* Can only be used after 24 hours of purchase. 

* All extra value amount will be added into the eGift Card automatically upon payment. To check on the balance of your eGift Card, please visit our hair salon and provide your email address to the front desk!
* Purchases of eGift Card will not be entitled to collection of member points. Member points can only be collected upon using the eGift Card for any services or product purchase at the hair salon. 
* Paddling Seventy Six Pte Ltd cannot be held liable for Number76 eGift Card once activated. Treat your Number76 eGift Card as cash.
Sought help to gift this whilst I was overseas. Excellent service support was given
Order#3890 Didn't receive gift card
Didn't receive the gift card 7 days after purchased, instead received an email saying that order had been fulfilled. Didn't receive any tracking no. Buyer aware.
Would be great if we can top up to our membership card. So there's no need to have a separate cars. Also if its a digital card, it will save the trouble for us to collect in store.
First purchase with no follow up
This is the first time purchasing the gift card, tried to write in to check about the collection, twice. But no replies after a week. I hope I can get the value stated on the website when I head down to the store.