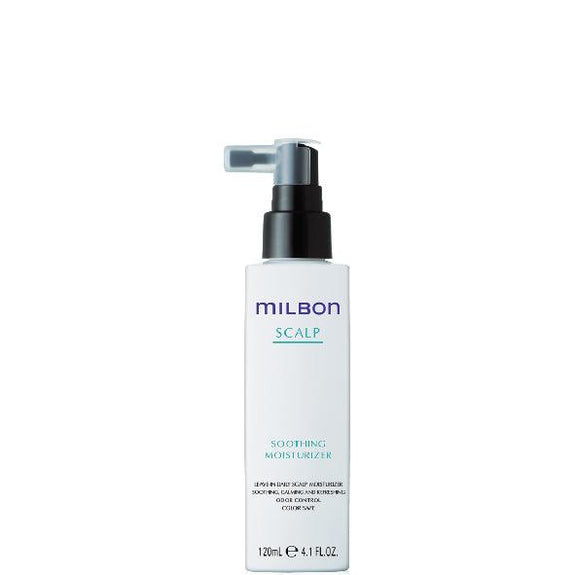 Global Milbon Scalp Soothing Moisturizer
$58.00 SGD
It is found that 80% of women in the world have scalp troubles. Based on survey done by Milbon, more than 60% of these women are not implementing the proper scalp care.

ITCHY · DANDRUFF · DRY · STICKY · SMELLY

5 Troubles, 1 Solution

The common reason behind 5 major scalp troubles are due to excessive fatty acids. Global Milbon Scalp Care is thus created to remove excess fatty acids and replenish moisture to hair, which consequently leads to clean scalp and healthy, shinier hair.
This weightless, soothing scalp moisturizer serves as the final step to normalize scalp is to deeply moisturize and nourish. The hydration act of Hyaluronic Acids is intensified by 10 invigorating botanical extracts to promote a healthy scalp balance – while Menthyl PCA gives a soothing effect.

Benefits:
✓Replenishes moisture to scalp
✓Relieves dryness & itchiness
✓Dandruff-control
✓Reduces stickiness & odour

Power Ingredients:

✓Hyaluronic Acid

✓10 Botanical Extracts - Swertia Japonica, Ashitaba Leaf/Stem, Loquat Leaf, Eelgrass, Wild Thyme, Marjoram Leaf, Rice Leaf, Luffa, Panax Ginseng Root, Stephania Cepharantha Root

✓SSVR-SIlk™ is a powerful, silk-based complex which supersedes these hollow tubular gaps-and improves hair's overall integrity, inside and out. This groundbreaking ingredient is now incorporated in all-new Glolbal Milbon signature items.

How to Use:
Apply 10-14 pumps to clean scalp after shower and gently massage across scalp. Style as usual, do not rinse. Use daily for best results.
Expiry Date: 3 years from the manufacturing date 

*Price inclusive of GST