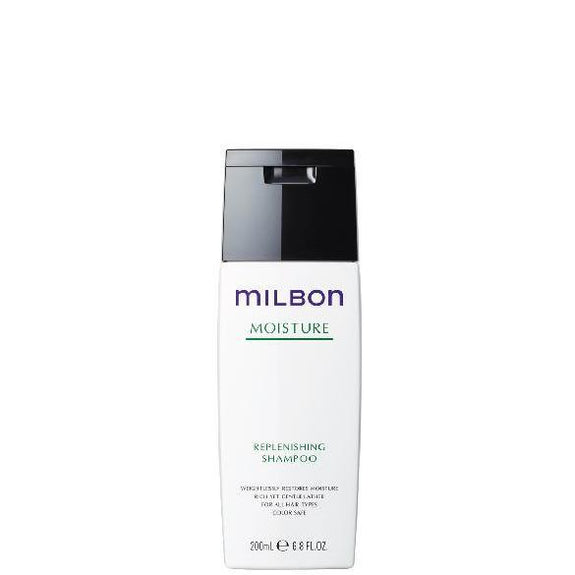 Global Milbon Moisture Replenishing Shampoo
$46.00 SGD
Global Milbon Moisture Replenishing Shampoo nourishes dry, damaged hair. This superior hydrating shampoo creates a rich gentle lather to replenish moisture, leaving hair looking luminous and color more vibrant.
Power Ingredient:

✓SSVR-SIlk™
SSVR-Silk is a powerful, silk-based complex which supersedes hollow tubular gaps that form in chemically treated hair— which seem to contribute to loss of shine, split ends, and breakage. It effectively improves hair's overall integrity, inside and out. This groundbreaking ingredient is now incorporated in all-new Global Milbon signature items.
How To Use:
Thoroughly wet both hair and scalp for 90 seconds before shampooing to maximize product performance. Emulsify shampoo between palms and gently work into hair and scalp. This shampoo cleanses and conditions at the same time.
Expiry Date: 3 years from the manufacturing date 
*Price inclusive of GST.
Amazing!!
First time buying the shampoo, what i can say it is really amazing. My hair is soft and i love the smell
Good Shampoo
I've been using this shampoo for some times.This shampoo give my hair and scalp good oil balance. After use, my hair is smooth, not drying but also not oily.
Been using this shampoo for a while now, and can't seem to find any other shampoo that work as great. For its good result on my dry and thin hair. It's not over drying, or too 'heavy' that it weight down my hair. Another thing about this brand is, it always smell great.
My first time getting the shampoo online. Fast delivery and good service. Will definitely come back for more. Thank u.
Best shampoo for dry hair
Tried this shampoo based on stylist's recommendation.
I can feel the difference after first wash. My hair feels more moisturized.
Smooth!
This shampoo really good, really moisture, hair is very smooth after long term using it! Can't go for other shampoo anymore!